Mobile Diesel Dispenser
Product Code : 00
Product Description
A compact dispensing solution for diesel dispensing on construction and mining sites, these Mobile Diesel Dispenser systems are acclaimed for their precise and accurate results. The Fluidyne Series 6720 is a 24V DC operation and a tamper proof metering unit makes for a very attractive device for conserving precious diesel fuel and controlling pilferage on construction/mining sites. Mobile Diesel Dispensing System is designed to suit all environments so that it impart unmatched quality with highest degree of reliability.
Mobile Diesel Dispensing System Features:

High capacity vane pump for diesel dispensing.
High accuracy P. D. Flowmeter for measurement.
Built in reusable large capacity filter.
3/4 size Shut off nozzle for filling.
Pad locking facility for nozzle.
Resettable Batch and Cumulative Totaliser.
Self Powered Display.
24V DC vehicle battery operation.
Rugged construction to suit harsh environments.
Mobile Diesel Dispenser Specifications:
Flow Capacity
0 - 60 LPM
Accuracy
± 0.5% of reading
Supply Voltage
24V DC from vehicle battery
Batch Display
12 mm Height LCD 999.99 litres
Cumulatative Display
8 mm height LCD 99999999 litres
Filter Mesh
150 Micron SS Mesh Reusable Type
Hose Nozzle

1" R3 Grade Rubber, 5 Meter Long
3/4" Shut off Nozzle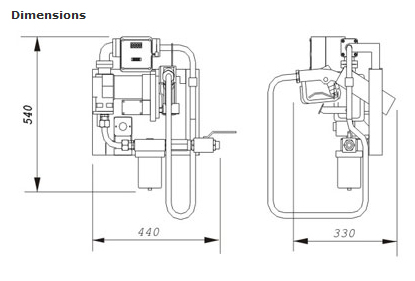 Installation